Give your colleagues a special day at Jylland's Park Zoo for this year's corporate event. Optionally with the colleagues' families.
A day when you get to meet each other in a new way and create bonds that will help in your daily work.
At the same time, it is an opportunity to communicate differently, getting fueled up on energy together, so you are ready to achieve professional and personal results. You can challenge each other, but not least get relaxed and enjoy yourself together.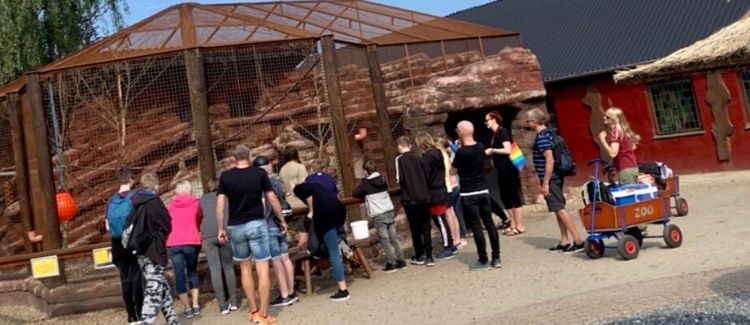 The day offers experiences for young and old. It can be anything from feeding the animals, patting the goats, pony rides, playing on the playgrounds and jumping on Denmark's largest jumping pillow. The possibilities are many and the most important thing is just to have a good time.
You spoil and strengthen the bond between leaders and employees, when you see each other's kids laugh and enjoy themselves together. A happy family creates a happy and motivated employee, and they appreciate seeing their leader giving them a deserved break.
You can book a tent and make it easy for yourself by ordering food in the cafeteria. You can also bring your own food and drinks and let us light up the grill for the event, it is entirely up to you.
It is possible to book an 1 hour guided tour with a zookeeper. It costs only DKK 350, - for up to 30 people.
We listen to your wishes and tailor exactly the program that is best suited for you.
For more information and offers on an exciting day, call 97 16 61 20.