Opening hours 2023
02.04.23 - 25.06.23
Tivoli
Monday - friday12.30-17
Weekends and holidays11.30-17
Pony rides
Monday - fridayCLOSED
Weekends11.30-17
26.06.23 - 09.07.23
Tivoli
Weekends and holidays11.30-17
Pony rides
Every day11.30-17
10.07.23 - 06.08.23
Tivoli
Weekends and holidays10.30-18
Pony rides
Every day10.30-18
07.08.23 - 20.08.23
Tivoli
Monday - friday12.30-17
Weekends and holidays11.30-17
Pony rides
Monday - friday13-14
Weekends11.30-17
21.08.23 - 17.09.23
Tivoli
Monday - friday12.30-16
Weekends and holidays11.30-16
Pony rides
Monday - friday13-14
Weekends11.30-16
Tivoli tickets
For our manned rides, you have to use the tivoli tickets:
11 tickets for50 kr.
5 tickets for25 kr.
​Used for:
Pony rides
The boats on the zoo-lake
The train, that drives around the park
Horses carousel
Bulldozers
Minicars
​1 ticket pr person, pr ride. However its 2tickets pr boat on the zoo-lake.
(max 2 adults and 1 child pr boat)
The rides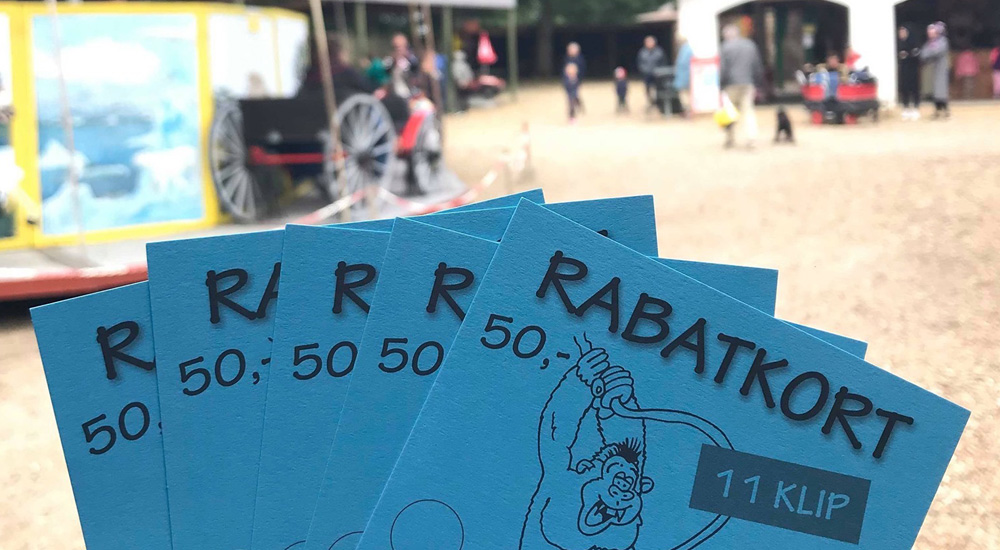 Horses carousel
Minicars
Pony rides
Zoo-train
Bull dozers
Boats on the zoo-lake
In adition to the fun rides in the tivoli, the childen can also try some of the many free activites in the park.
It is possible to unfold in the fun mini village, jump around on Denmark's largest bouncy cushion  of 689m2, slide down the slide lanes or find new playmates, in the many play areas with swings, sandboxes, climbing frames and much, much more.
<! -- // row inner -->